Join us for the inaugural One Barrel 2.62 Marathon in Egg Harbor Saturday, Nov. 30, 2019!
The run will start and end at the One Barrel taproom. Every runner will get an awesome race shirt, glassware, and free beer at the finish line. Kids will get hot chocolate at the finish.
After the run we'll enjoy a college football Saturday in the taproom, or kick off the season with Holly Days throughout Egg Harbor. Register by Nov. 1 and you'll get in for just $26.20!
Why 2.62 miles?!? Because why not? It's fun, and a great reason to get together and celebrate Thanksgiving weekend in Door County.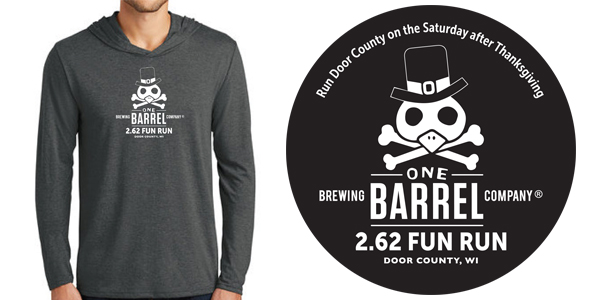 Packet Pickup
Participants may pick up their packets on Friday, November 29th from 6-9pm or Saturday, November 30th from 8:30-9:30am at One Barrel Brewing Co in Egg Harbor.